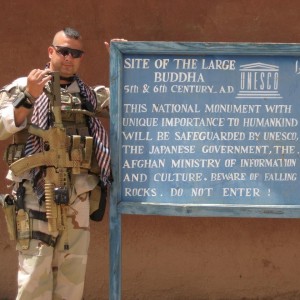 Gregory Cruz is a Disabled Veteran, Military Wounded Warrior and Combat Veteran nominated for the Silver Star for Combat Valor, Awarded Bronze Star with Combat V and Purple Heart Medals, along with other prestigious awards.
He is most proud of being a Marine Corps Grunt, USMC Scout Sniper and Scout Sniper Instructor. (BDC member) Gregory Cruz participated in support of Operation Just Cause in Panama, Operation Desert Shield/Desert Storm, Operation Iraqi Freedom and Operation Enduring Freedom.
A highly experienced competitive shooter, firearms and tactics instructor and lifelong student of the tactical/shooting arts, Cruz was a founding member of Department of Homeland Security/Federal Air Marshal firearms program post 9/11. He was retired in 2014 from the Boston Office of the Federal Air Marshals due to his combat injuries. 
An experienced Law Enforcement Officer, Gregory Cruz worked in Federal Corrections holding positions such as: Lead Academy Instructor, CERT Team Commander and High Risk Transport team member.  He was a Reserve Police Officer in Charlestown, Rhode Island where he served on the Emergency Services Unit (ESU) Team member, and Police Instructor for firearms and tactical training. He also served as the Chief Firearms Instructor at the Rhode Island Municipal Police Academy.
Gregory Cruz stood up the first operational security detachment in Afghanistan in support of covert and overt intelligence gathering operations for Governmental Intelligence Agencies. He was the team Chief of the Security & Protective Services Detail on over 1000 missions in two years, protecting intelligence members, flag ranking military officers, high ranking diplomats, and U.S. and Foreign Government Officials. Also, any and all other missions as directed or he could be assigned.
Cruz, as he was called by his Afghan fighters, brings a solid knowledge base in combat tactics, weapons and military skills. But, his passion, which is second to none, is to continue to learn and pass on his knowledge. 
Whether it is a legally armed civilian, law enforcement, or in a military context, Gregory Cruz has the ideal combination of skills and experience to instruct combat shooting, from the very basics to the most advanced skills and techniques.