Partners-in-Profit Workshops (Delivered-to-Your-Door )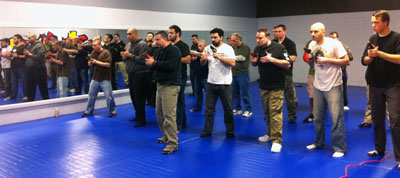 IG's mobile firearms training program specifically designed for martial arts schools and other groups is the very first program of it's kind.
Unlike typical firearms instruction that takes place at a firing range with live ammo, IG delivers the range to you using extremely realistic Airsoft replica BB pistols.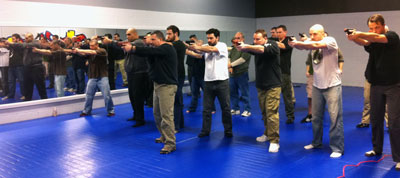 IG Airsoft training is non-recreational and maintains the same strict discipline as live ammunition activities and is the safest possible way to learn how to handle a firearm.

This is not to say Airsoft training replaces live-ammo training, Airsoft compliments ammunition and mitigates the risk while initially learning safe handling skills.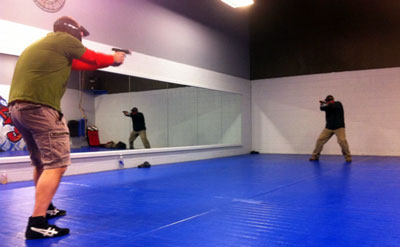 While shooting targets is an essential part of training, protecting yourself or loved ones with a firearm requires more activities than ammunition accommodates.
Airsoft replica firearms with BB's adds a vital new dimension to firearms training because it permits two-way "force-on-force" shooting activities (people shooting at each other) in reality-based hostile dynamic scenarios.
By the way, this is LOADS of FUN. Shooting targets is challenging but there's nothing like the excitement of having someone shooting back at you!
Cruz' offers a very exciting 2-hour Pistolcraft Intro and varied follow-up courses.
Affordable and fun for trainees, and hassle-free for hosts.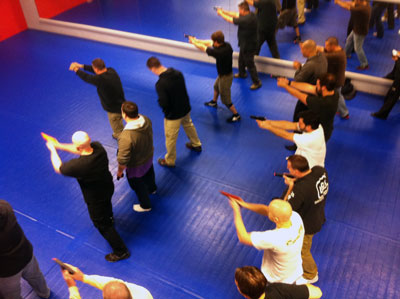 Cruz provides the Airsoft BB guns w/holsters
Spare mags w/pouch
Face/Neck Protectors
Gloves, Gas and BB' and Color Certificates
The host provides the venue and trainees.
And the profit is split 50-50% (conditions apply).
Contact Cruz directly with whatever questions you have and/or to schedule a workshop. Cruz@InteractiveGunfighting.com