WELCOME TO THE IG & AMOK! THAILAND TRAINING ADVENTURE August 09-15, 2015
Gregory Cruz and Tom Sotis invite you to experience an extraordinary training adventure in exotic Thailand. Join us for a week of combatives, adventure, and relaxation in one of the most remarkable places on the planet. You can choose to take either of our courses, or both.
ABOUT CRUZ' PISTOLCRAFT TRAINING
HANDLING AND FIRING will cover Safety and Fundamentals, Draw process, Reloading techniques and Stoppage Clearing, Move-and-shoot or move-then-shoot, Weapon manipulation and more.
SHOOTING ON THE MOVE and Stress Inoculation will cover 360* threats, Dynamic movement, Alternate positions, Target(s) acquisition, Physiological/Psychological inoculation and more.
ENHANCED TECHNIQUES and Low-Light Conditions will cover one-handed shooting and manipulations, Enhanced combat accuracy, shooting in Low-light shooting and more.
COMBAT PISTOLCRAFT SCENARIOS will cover combat pistol tactics from different forms of transportation, Problem solving force-on-force drills, Room movement and clearing tactics etc.
EQC TACTICAL PROBLEM-SOLVING will cover transitioning to a secondary weapon (backup gun), Standing or Ground Weapon Retention and Disarming, Knife version of pistol in CQ.
ABOUT SOTIS' COMBATIVES TRAINING
REALITY-BASED SCENARIOS are exciting and challenge your judgment and skill during the evolution of the Pre-Fight, Fight, and Post-Fight phases of violent confrontations.
PRE-FIGHT TRAINING includes managing common conflict situations right up to and including first contact, with the goal of escaping or establishing a strong platform for fighting.
FIGHT TRAINING (where we spend most of our training time) includes tactical solutions in Knife Fighting, Knife Defense, Disarming Weapons, Use of Machete, and Integrating Knife/Pistol.
POST-FIGHT TRAINING includes Emergency First-Aid with an emphasis on fight-related injuries and managing First-Responders, whether they are police or other rescue personnel.
EVERYTHING IS OPTIONAL
It is your trip and all activities are completely optional. A typical day goes something like this: we meet up at the breakfast buffet where a lot of guys plan an afternoon adventure. Then Tom leads training from 9am-1pm and after a rest, train with Cruz in the afternoon. Some of us then gather and go down the street to the $6 foot massage place to swap stories and jokes and laugh to no end. Everyone who wants to join up for dinner meets in the lobby about 7:30pm and we head out together. Pattaya has excellent restaurants with food from many cultures around the world so you can always get what you want. It's always great after a long day to come back to a room that is immaculate clean, comfortable, and safe for a good night's sleep to recharge yourself for the next morning's workout.
About the Training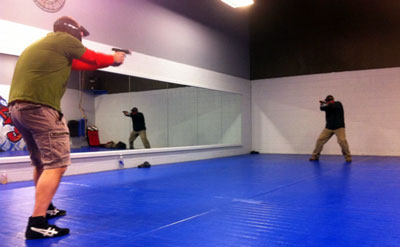 While shooting targets is an essential part of training, protecting yourself or loved ones with a firearm requires more activities than ammunition accommodates and to that end, IG delivers the range to you using extremely realistic Airsoft replica BB pistols.
Airsoft replica firearms with BB's adds a vital new dimension to firearms training because it permits two-way "force-on-force" shooting activities (shooting at each other) in reality-based hostile dynamic scenarios.
This is not to say Airsoft training replaces live-ammo training, Airsoft compliments ammunition and mitigates the risk while initially learning safe handling skills. IG Airsoft training is non-recreational and maintains the same strict discipline as live ammunition activities.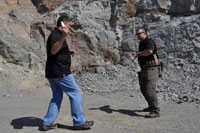 Handling and Firing
Safety and Fundamentals
Draw process while standing or moving both covert and overt
Reloading techniques and Stoppage Clearing
Move-and-shoot or move-then-shoot
Weapon manipulation on the move and Shooting at moving threats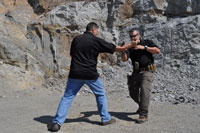 Shooting on the Move and Stress Inoculation
Pivoting and engagement skills to address 360* threats
Dynamic movement and use of alternate positions
Target acquisition when engaging multiple threats
Close Quarters and Extreme Close Quarters combat pistol-craft skills
Physiological/Psychological reactions, inoculation to stress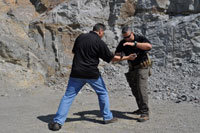 Enhanced Techniques and Low-Light Conditions
Shooting with one hand (strong and support is assumed injured or in use)
Manipulating the weapon with only one hand (survival shooting drills)
Enhanced combat accuracy drills (VIP or hostage shooting)
Flashlight techniques and shooting in low light (night-time activity)
.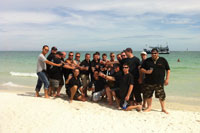 Speedboat Adventure to Ko Samet Island
Air-con minivan transport to pier
Speedboat to the island
Eat, drink, swim, and party the day away
(about 2500 baht for the day)
.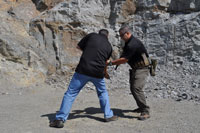 Combat Pistolcraft Scenarios
Combat pistol tactics from different forms of transportation
Problem solving and force-on-force drills
Room movement and clearing tactics
.
.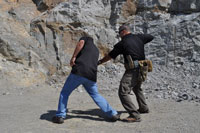 EQC Tactical Problem-Solving
Transitioning to a secondary weapon (backup gun)
Standing or Ground Weapon Retention and Disarming
Knife version of pistol in CQ
.
.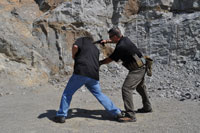 Indoor Tactical Scenarios
Combat Pistolcraft in man-made structures
.
.
Afternoon Adventures
Thailand has a never-ending stream of fun and exciting things to do. Your biggest problem is deciding which things to prioritize! And with so many people at camp, no matter what you want to do, others will want to go with you. Here's a quite incomplete list.
                    The Sanctuary of Truth
                        Flight of the Gibbon
                           Pattaya Tiger Zoo
                     Pattaya Floating Market
                          Nong Nooch Garden
                      Wat Yansangawaram
                              Big Buddha
                       Pattaya Elephant Park
             Cho Nateetong Thai Boxing Camp
Underwater World, Bungy Jump, Thai Sky Adventures, Tiffany's Shooting Range, Go-Karting, Paintball Park, Pattaya Lake Land Cable Ski, Golf, Spas and Health, Yellow Submarine, Khao Kheow Open Zoo, Shooting and Adventure Park, Ripley's Believe it or not Museum, Dolphin World, Million Years Stone Park, Crocodile Farm, Three Kingdoms Theme Park, Amazon Fishing Park,, Pattaya Beach, Jomtien Beach, Naklua Beach, and the list goes on and on.
.
About Accommodations
Most of us choose to stay at the Sunshine Vista because the hotel is newly renovated and exceptionally clean, the staff is wonderful and they know our group well, the food is fantastic, and it is conveniently located. We meet in the restaurant for breakfast buffet, we train in the conference room on the 10th floor, after training we take lunch and a swim in the pool, and then we gather in the lobby when we go for dinner. With so many of our activities happening in the hotel, staying elsewhere becomes quite inconvenient. See below why we strongly suggest to book your stay thru AsiaTours.
                                    Outside
                            Hotel Entrance
               Always Friendly Reception
                       Lobby and Internet
                       Excellent Restaurant
                       Immaculate Rooms
                         Big Training Room
                      Terrace with a View
                    Pool with Swim-up Bar
.
NOTICE:Since your camp fee is for training only and all other expenses are your own, you are always welcome to stay wherever you please and book however you wish. However, I strongly suggest you book your stay thru Wilawan Bruch at www.AsiaTours.net she will save you money on your room booking.  Furthermore, when some hotels in Thailand get fully booked they are known to "misplace your reservation" and sell your room for a higher rate. Booking thru our travel agent offers protections that can come in very handy.
                 They Have Earned Our Trust
We couldn't be luckier because AsiaTours is owned and operated by an AMOK! – IG family residing in Bangkok, our close friends Ole and Wan Bruch. Since the first year we had a Thailand Camp we became good friends and they handled our booking every year for 10 years. The great benefit to you for booking through Wan is being assured the best price and if you want, Wan will arrange for a taxi driver to meet you at the airport and take you directly to the hotel so you have no concerns or delays on that matter.
                   Above and Beyond Service
Booking through Wan offers a kind of protection that is no small matter. For instance, it is not uncommon that hotels book to capacity and when they do, some continue over-booking rooms at a higher rate and when the lower-rate customer arrives, they have no record of your reservation. When you book thru Wan you don't have problems like this, and if you have any kind of problem, she's got your back. You are free to book and stay elsewhere if you wish but if you run into any issues, you cannot expect her assistance.
                They've Earned Our Loyalty
Be sure to make your reservation early because it is a popular hotel and rooms sell out early.  Let Wan know you are with the AMOK!- IG group so you will be on her VIP list and everything handled with special attention. Ole and Wan have provided above-and-beyond service for 10 years. No matter who it was, what they needed, what time day or night, Ole and Wan have been there for us. Booking here saves you money and returns the favor for all they do, and in IG, brotherhood is a verb, so book here. Email Wan here
.
Your payment for training
              Register Early and Save Money
When you register early, you save money and get the same protection as those who wait. Jan-Feb = $600, Mar-Apr = $650, May-Jun = $700, Jul-Aug = $800, or you can opt to pay $150 equivalent at the door for each day of training.
                        Your Dollars are Safe
Up to 60 days before the camp we give a 100% refund if you request one. Inside 60 days before camp we offer a 100% credit good for 5 years that can be used for any company-hosted event. Your training dollars are always safe with us.
              Use the Button Below to Register
.
With whatever questions you have, Cruz will be glad to help you Cruz@InteractiveGunfighting.com